Day 1 Severe Thunderstorm Outook
Categorical Day1 2000Z Outlook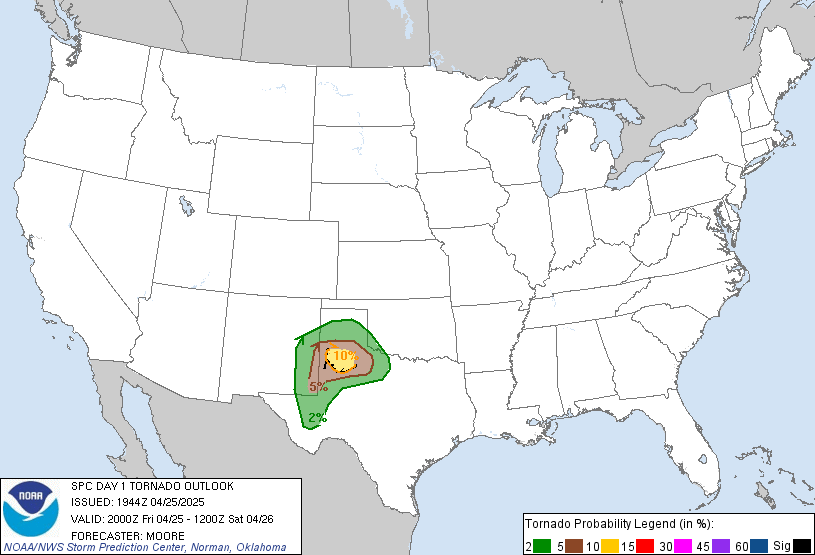 Probability of a tornado within 25 miles of a point.
Hatched Area: 10% or greater probability of EF2 - EF5 tornadoes within 25 miles of a point.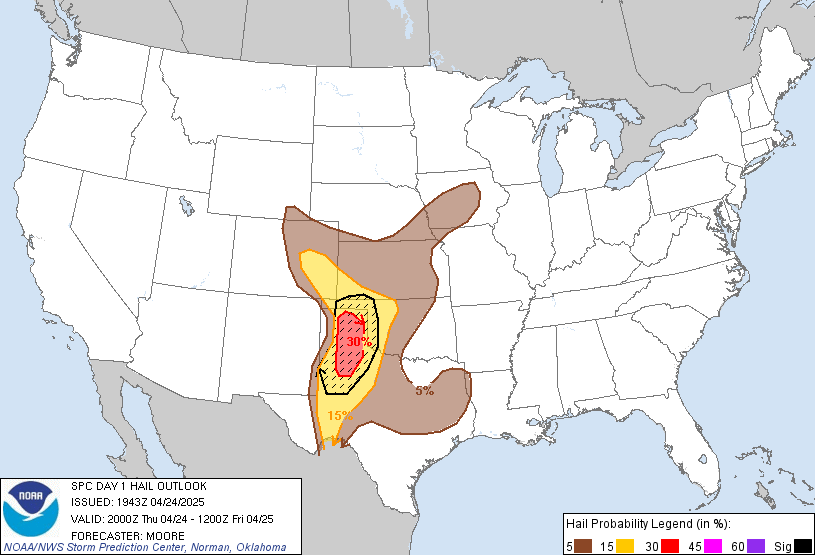 Probability of one inch diameter hail or larger within 25 miles of a point.
Hatched Area: 10% or greater probability of two inch diameter hail or larger within 25 miles of a point.
Probability of damaging thunderstorm winds or wind gusts of 50 knots or higher within 25 miles of a point.
Hatched Area: 10% or greater probability of wind gusts 65 knots or greater within 25 miles of a point.

Images courtesy of the NWS Storm Prediction Center



000
ACUS01 KWNS 231954
SWODY1
SPC AC 231953

DAY 1 CONVECTIVE OUTLOOK  
NWS STORM PREDICTION CENTER NORMAN OK
0253 PM CDT WED APR 23 2014

VALID 232000Z - 241200Z

...THERE IS A SLGT RISK OF SVR TSTMS ACROSS THE PLAINS FROM SRN NEB
SWD INTO THE NWRN TX VICINITY...

...SUMMARY...
SEVERE THUNDERSTORMS ARE EXPECTED THIS AFTERNOON INTO TONIGHT ACROSS
PARTS OF THE CENTRAL AND SOUTHERN GREAT PLAINS. LARGE HAIL WILL BE
THE PRIMARY INITIAL HAZARD...WITH DAMAGING WINDS AND A FEW TORNADOES
ALSO POSSIBLE.

...DISCUSSION...
MINIMAL CHANGES ARE REQUIRED THIS UPDATE AS PRIOR REASONING REMAINS
VALID.  STORM DEVELOPMENT IS EXPECTED ACROSS THE PLAINS OVER THE
NEXT COUPLE OF HOURS...WITH HAIL/WIND RISK ANTICIPATED.  TORNADO
RISK -- WHILE LIMITED OVERALL GIVEN A RELATIVELY DEEP MIXED LAYER --
WOULD APPEAR TO BE GREATEST OVER THE SWRN OK/WRN N TX VICINITY VERY
LATE THIS AFTERNOON AND INTO EARLY THIS EVENING BEFORE DIMINISHING.

FOR ADDITIONAL SHORT-TERM INFORMATION...PLEASE REFER TO RECENTLY
ISSUED SWOMCD NUMBERS 385 AND 386.

..GOSS.. 04/23/2014

.PREV DISCUSSION... /ISSUED 1127 AM CDT WED APR 23 2014/

...SYNOPTIC SETUP...
PROGRESSIVE/MODERATELY AMPLIFIED PATTERN WILL PREVAIL THIS
PERIOD...WITH GRT BASIN TROUGH THE MAIN FACTOR AFFECTING SVR WEATHER
POTENTIAL INTO THU. THE TROUGH SHOULD CONTINUE E TO THE HIGH PLNS BY
12Z THU AS DOWNSTREAM RIDGE REACHES THE LWR OH VLY.

WITHIN THE TROUGH...MAIN SHORTWAVE IMPULSE NOW ENTERING THE LWR CO
VLY SHOULD PIVOT E TO THE AZ-NM BORDER THIS EVE AND INTO W TX EARLY
THU. AT THE SAME TIME...WEAKER DOWNSTREAM IMPULSE OVER NM SHOULD
LIFT NE ACROSS THE CNTRL HIGH PLNS TODAY AND INTO THE MID MO VLY
EARLY THU. IN THE NRN PART OF THE TROUGH...DISTURBANCE NOW OVER WY
WILL TRACK NE INTO ND BY EVE...ADVANCING AN ASSOCIATED COLD FRONT
ESEWD ACROSS THE CNTRL PLNS. FARTHER S...LEE TROUGH/DRY LINE
SEGMENTS SHOULD MIX E INTO WRN PORTIONS OF CNTRL AND SRN PLNS THIS
AFTN...BEFORE BEING OVERTAKEN BY THE COLD FRONT TNGT/EARLY THU.

BOTH THE CNTRL PLNS COLD FRONT AND THE DRY LINE/LEE TROUGH SEGMENTS
FARTHER S WILL PROMOTE STRONG TO SVR STORM DEVELOPMENT...BEGINNING
THIS AFTN AND CONTINUING INTO TNGT.

...CNTRL PLNS COLD FRONT THIS AFTN/EVE...
TSTMS SHOULD FORM ALONG COLD FRONT FROM S CNTRL/SE SD SWWD INTO NW
KS AS THE BOUNDARY ACCELERATES ESEWD. CURRENT OBSERVATIONS SUGGEST
THAT MOISTURE WILL REMAIN SOMEWHAT LIMITED...WITH PW AROUND 1 INCH
AND AVERAGE SFC DEWPOINTS AROUND 50 F. LOW TO MID-LVL LAPSE RATES
WILL...HOWEVER...BE FAIRLY STEEP...CONTRIBUTING TO MLCAPE ON THE
ORDER OF 500 J/KG IN NERN NEB TO ABOVE 1000 J/KG IN NW KS. DEEP
SHEAR WILL VARY ACROSS THE REGION...RANGING FROM 40 KT WSWLY IN KS
TO 50 KT SSWLY IN NRN NEB.

OVERALL SETUP APPEARS FAVORABLE FOR RELATIVELY HIGH-BASED SUSTAINED
STORMS/SUPERCELLS CAPABLE OF DMGG WIND AND HAIL AS NRN STREAM
IMPULSE GLANCES REGION AND WEAKER DISTURBANCE APPROACHES FROM THE
SW. THE ACTIVITY SHOULD MERGE INTO AN ESE-MOVING MCS IN SRN NEB/NRN
KS BY EARLY TNGT. A GRADUALLY DIMINISHING DMGG WIND THREAT MAY
PERSIST IN ASSOCIATION WITH EMBEDDED FORWARD-PROPAGATING
SEGMENTS/SMALL BOWS THROUGH EARLY THU.

...CNTRL/SRN PLNS LEE TROUGH/DRY LINE THIS AFTN INTO TNGT...
CLOUDS ASSOCIATED WITH LEAD UPR IMPULSE SHOULD CLEAR REGION ALONG
LEE TROUGH/DRY LINE SEGMENTS OVER WRN PARTS OF THE CNTRL AND SRN
PLNS BY EARLY AFTN...ALLOWING FOR SUBSTANTIAL HEATING. AT THE SAME
TIME...BOUNDARY LAYER MOISTURE SHOULD CONTINUE TO SLOWLY INCREASE
THROUGH ADVECTION. SFC DEWPOINTS SHOULD AVERAGE IN THE UPR 50S TO
AROUND 60 OVER W TX...WITH SOMEWHAT LWR VALUES EXTENDING NWD INTO
WRN KS. COUPLED WITH STEEP MID-LVL LAPSE RATES...EXPECT MUCAPE TO
RANGE FROM 1000 J/KG IN KS TO 2000 J/KG IN TX.

SFC HEATING AND HEIGHT FALLS ASSOCIATED WITH PROGRESSIVE NATURE OF
LARGE-SCALE TROUGH SHOULD FOSTER SCTD STORM DEVELOPMENT ALONG  LEE
TROUGH/DRY LINE SEGMENTS BEGINNING LATE THIS AFTN AND CONTINUING
INTO TNGT FROM WRN KS TO W CNTRL TX. MORE WDLY SCTD ACTIVITY MAY
EXTEND S TO THE TX BIG BEND. COUPLED WITH 40-45 KT WSWLY DEEP SHEAR
AND STEEP MID-LVL LAPSE RATES...ENVIRONMENT SHOULD BE FAVORABLE FOR
SUPERCELLS WITH LARGE HAIL...SOME POSSIBLY VERY LARGE...AND LOCALLY
DMGG WIND. A RISK FOR TORNADOES ALSO MAY DEVELOP...PARTICULARLY THIS
EVE/EARLY TNGT OVER NW TX/SW OK...AS NOCTURNAL AND DYNAMIC
STRENGTHENING OF SLY LLJ ENLARGES HODOGRAPHS. THIS WINDOW OF
OPPORTUNITY SHOULD DIMINISH LATER TNGT AS THE STORMS MERGE INTO
SHORT LINE/CLUSTERS...ALTHOUGH A LIMITED RISK FOR SVR WIND/HAIL MAY
PERSIST NEAR THE RED RVR THROUGH EARLY THU.